Do it right the first time, every time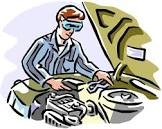 Automobiles are a necessary evil. Whenever we have to have our car repaired, it can be quite frustrating. There is such a relief if something is fixed on time and right – the first time.

However, sometimes they don't have the correct part or the correct expertise. They need the car for longer than expected. That is bad enough. However, when they say it is 'fixed' and we take it and pay for it, then to have it not fixed at all. That is when frustration PEAKS.
This week's esourcing Wiki article is Strategic Services Management. It discusses the importance of using a broad approach to sourcing services, including training, parts pricing and availability as well as technician expertise.
Getting it right is important in procurement for service management. Having sourced a piece of equipment for a lower cost is terrific. However, during the life of the equipment it will need parts and services. The key for procurement in providing superior service is to have the parts at a good price and available when needed. Another factor to include is the labor cost and location of qualified labor pool.
Have you had any experience sourcing services? What have you found to be the most challenging compared to sourcing of products?
Share your thoughts by commenting below or tweeting @buyersmeetpoint.

Related Posts
Comments
No comments made yet. Be the first to submit a comment
By accepting you will be accessing a service provided by a third-party external to https://www.buyersmeetingpoint.com/