Negotiation is child's play - or maybe not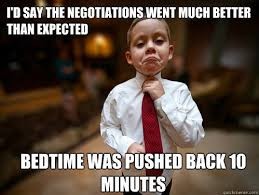 When our daughter was in elementary school, she was a tough negotiator. She wanted her independence at a very early age. When it came time for bedtime, we came up with a plan. She could go to bed anytime she wanted up until 8PM. It was her choice. She loved that freedom and the rest fell into place. From our perspective, we wanted her in bed by 8PM anyway but it was all in how it was presented.
Negotiation is something we do every day – sometimes with ourselves and sometimes with others. Should I have dessert, that cookie, that extra glass of wine? Who on the team should do the analysis, the presentation, make that sales call?
In procurement, this is a key skill that constantly needs to be sharp and at the ready. In this article from Harvard, 10 Hard Ball Tactics in Negotiation, it goes through scenarios and areas to avoid.
One that I found interesting was "Trying to make you flinch". In this case, the other party keeps making harder and harder demands, waiting for you to break. I remember one negotiation I was in, the other party kept trying a variety of tactics and behaviors to make me move or waiver. I stayed the course and eventually they became more reasonable.
"Personal insults and feather ruffling" is another one that makes me wonder what are they thinking? We were buying a new car and the salesman insulted us about not being able to make a decision and needing to run home to Daddy. At the time we were married with children and certainly making our own decisions. Needless to say, we did not buy the car at that dealership. I wonder how often that works? It must or they would not do it.
Everything I read about negotiation says to do your homework and be prepared. Know what your BATNA is and stick to it.
Share your thoughts by commenting below or tweeting us @BuyersMeetPoint.
Related Posts
Comments
No comments made yet. Be the first to submit a comment
By accepting you will be accessing a service provided by a third-party external to https://www.buyersmeetingpoint.com/