No Decision is a Decision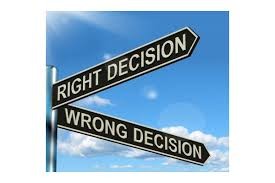 The Northeastern area of the United States has had a very harsh winter with heavy snow and very cold temperatures. Buildings and homes have been in danger of roof collapses due to the weight of the snow. There was a lot of communication about the issue for over a week about protecting your property and prevention activities.
Two schools about 100 miles apart were in danger of the roof collapsing. The official policy is to get three bids to select a contractor. One school followed that procedure and by the time that happened, another storm had occurred and the roof collapsed. The second school knew they did not have time to waste on the bidding process and used volunteers to get the job done.
Obviously no decision became decision. Now there is a much larger, more complex and expensive problem to solve in renovating the school.
In our professions we are often required to make difficult decisions, sometimes stretching the rules for the better good of the company. This article from Great Leadership, 8 Ways to Decisively End Indecision, gives great suggestions.
One that I have used before is "Step back and evaluate the impact of a wrong decision". In this case, the impact was severe with damage to a public school. Other times, it won't really matter so that is a good barometer to use.
A second pointer is "Set time bound parameters for making the call". If you know another storm is coming, make a decision in time to get some of that snow off the roof!!
A great piece of advice I once received was "If you don't know what to do, do something ". You can always make a course correction but you can't do anything if you are stuck in park.
What do you utilize to make decisions? Have you found some things more effective than others?
Share your thoughts by commenting below or tweeting us @BuyersMeetPoint.
Related Posts
Comments
No comments made yet. Be the first to submit a comment
By accepting you will be accessing a service provided by a third-party external to https://www.buyersmeetingpoint.com/