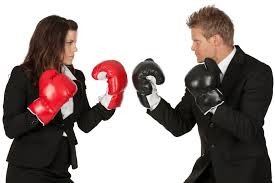 Elliot Epstein, CEO of Salient Communications, has partnered with organizations such as CIPS in the past to help sales and procurement professionals better understand each other. He has also done a series of podcasts on Sales vs Procurement with Paul Rogers – a three decade procurement professional that Epstein describes as the leading procurement coach in Australia.
He talked about the podcast series as well as the sales procurement divide in a YouTube interview titled Dealing with the Rising Power of Procurement.
For my podcast on the topic, including guest audio from YouTube, visit Blog Talk Radio or Sound Cloud.
The sales vs procurement divide has always been an interesting one. Who is really in the power position? How accurate is each side's understanding of the actions and motives of the other?
There are a couple of Epstein's points that are worthy of further consideration. One is the temptation many sales people feel to go around the rules set out by procurement on behalf of the organization. A standard part of any sourcing process is to make clear that going around procurement in any capacity once the process begins is grounds for elimination. Epstein makes the valid point that if you know your value proposition is not being heard because your procurement representative is a Peter Price – in other words a tactical buyer – what do you have to lose? You aren't going to get selected by going through the front door, so you might as well venture a pass at the back.
More important, and harder to address, is the case of the value that has not yet been identified or earmarked for sourcing by procurement. As the interviewer asked, and as Epstein logically pointed out, if the organization has not yet defined a need, they won't have assigned procurement to the spend (because it doesn't exist) and that presents sales with the opportunity to go directly to the person that stands to gain the most from whatever the solution happens to be.
That leads sales to the complication of finding the right person and trying to get an audience with them – that must we can say is not for procurement to fix.
So regardless of how value oriented – Valerie Value in the conversation – the lead procurement person happens to be, if the organization is not aware of the solution, it will be very hard to bring it in house.
Part of this leads directly to some of the challenge we face in our analytic work. Whether spend analysis, or attempts at predictive analytics, you only know what you know, which is based on what has happened in the past.
As Christian Madsbjerg and Mikkel B. Rasmussenwrote in their book The Moment of Clarity, "Almost all data analysis is about crunching numbers from the past and extrapolating these numbers into the future. For obvious reasons, the past does not include data on things that haven't happened or ideas that have not yet been imagined. As a result, data analysis of the future tends to underestimate or even ignore past events or conditions that can't be measured while overestimating those that can." The same is true of procurement's efforts to manage spend and create value. It is hard to anticipate need or value in areas where it has not existed before. This is also the problem with using spend under management as a metric. There are not only unknown categories of spend not reflected in the denominator of that calculation, there are also discontinued categories of spend, if you will. That combination of unknowns makes it a less than accurate approach to measure procurement's impact on the enterprise.
How does your organization handle new spend? Do the majority of sales people follow procurement's rules of engagement or are you constantly fighting to hold the line? Do you consider yourself a Peter Price or a Valerie Value? Would the sales people you deal with agree?