Chemical & Plastics Prices – 2023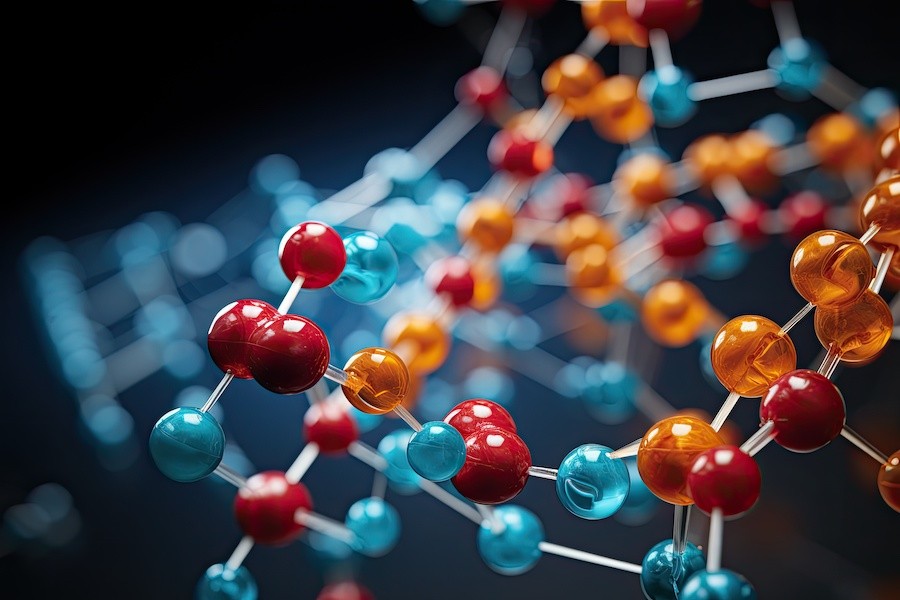 In January of this year my article, Chemical Prices Through Pandemic and War, published by Buyers Meeting Point, provided price analyses from 2019 to 2022. The article also predicted, based on third-party data, that 2023 prices would decline. So, how'd I do?
Well, I was 75% right. That January analysis was done for Polymers, Organic and Inorganic Chemicals, and Natural Chemicals. Except for Inorganic Chemicals, the other three categories showed price declines in the first half of 2023. Inorganics are now showing signs of price decrease on a monthly basis. This is in contrast to the entire year of 2022.
Methodology
For this mid-year update, I have used price data from Intratec, which publishes monthly Import/Export prices by country. From this data, we understand two things: 1) that Import/Export prices are lower than market prices because companies will import products only if the price is lower than the local market price, and 2) that producers only export products from their extra capacity at lower prices than market to increase their operating rate.
Even though Import/Export prices are lower than the market, they are good references because they reflect the changes in the market on a monthly basis.
This article reflects on the changes in price from 2022 to the first half of 2023 in the USA, Europe, and Asia in four areas:
Organic Chemicals: 105 products (Acetone, Acrylonitrile, Benzene, Cumene, and others)
Inorganic Chemicals: 69 products (Caustic Soda, Carbonates, Sulfates, Phosphates, and others)
Polymers: 30 products (ABS, PET, PE, PP, and others)
Naturals: 14 products (Menthol, Saccharin, Sorbitol, and others)
Price Movement
For the price evolution of raw materials, the graphs below show values by region on the left side. You will observe the comparison price overlay of crude oil (in black) with dollar values on the right side.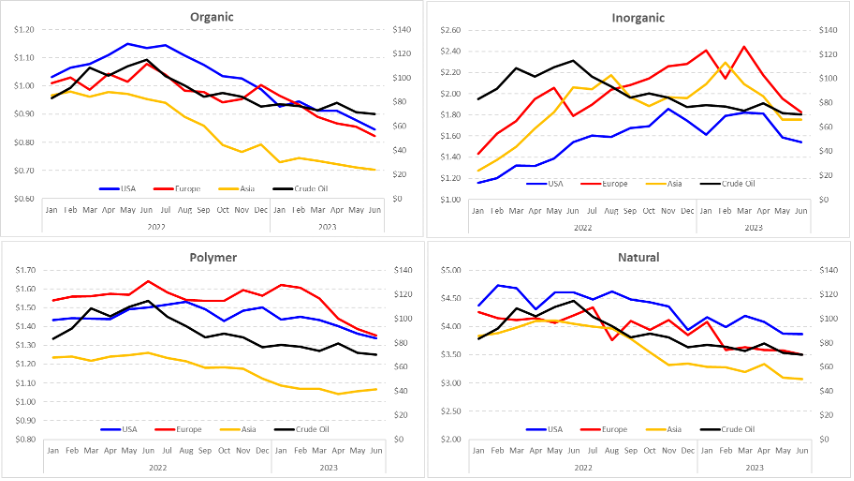 2023 Prices
Because the above line graphs present some difficulty in comparing prices, I include the following bar graphs in percentages to analyze the average prices of the first half of 2023 compared to all of 2022.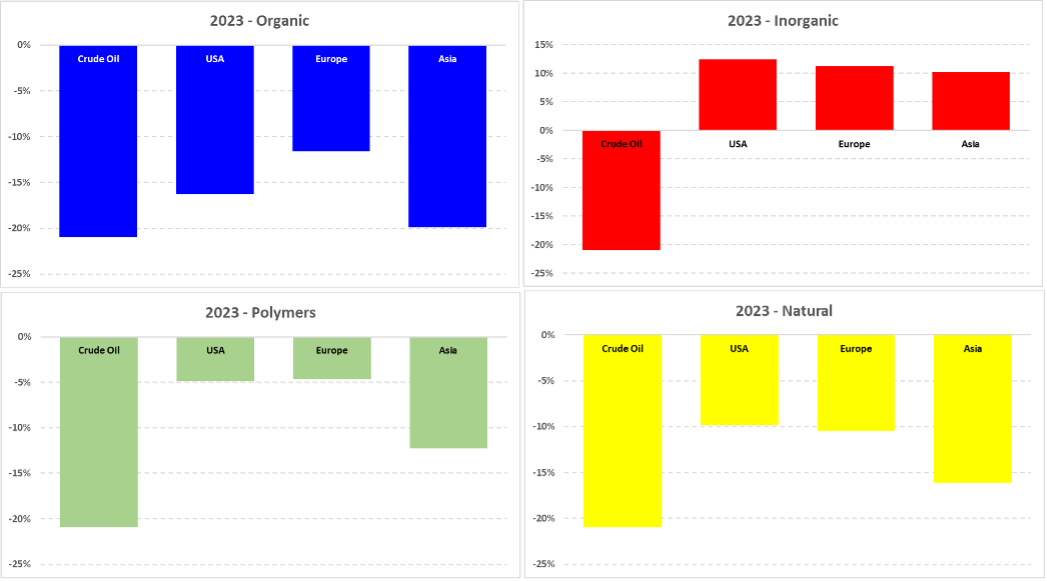 After Crude Oil, Organic Chemicals had the biggest decrease in this period, which affected a decrease in Polymers. Natural Chemicals also showed a price decrease across all regions. Interestingly, Asia presented the biggest decrease compared to other regions, which did not present the same pattern.
For Inorganics, the averages showed an increase in the first half of 2023 compared to 2022. However, the line graph reveals a price decline on a monthly basis. Derivatives of Sodium, Lithium, Nickel, and Lead presented the highest increases, as Europe and Asia continued to suffer fertilizer shortages.
2nd Half 2023
There are three important observations regarding the second half forecasts for 2023.
Wall Street has decreased its Crude Oil (WTI) projections for 2023 from $84 to $76. JP Morgan also cut its oil price outlook on oversupply concerns.
JP Morgan's Purchasing Manager Index (PMI) shows a continuous decline reaching below 50 index points.
The American Chemistry Council (ACC) specifically observed, "During June, capacity utilization in the global chemical industry gained 0.1 percentage point to 84.5 percent. This is down from 86.2 percent last June and below the long-term (1987–2017) average of 86.5 percent."
Based on the above information, I believe that prices of Chemicals and Plastics will decrease, or at least maintain the current low levels of the first half of 2023. This is an excellent time for sourcing.
Stay Informed
When you subscribe to the blog, we will send you an e-mail when there are new updates on the site so you wouldn't miss them.