Death of a Software Salesman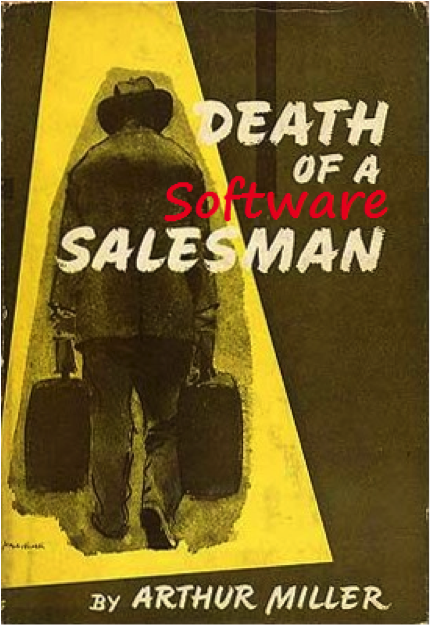 Arthur Miller's 1949 play 'Death of a Salesman' is often listed as one of America's finest and most influential stage dramas of the twentieth century. It was a tale that conveyed the American Dream but was interlaced with flashbacks that betrayed the contrast between illusion and reality. The Enterprise software sector echoes this drama in numerous ways and shares its inevitable ending.
In today's traditional enterprise software sales scenario, big companies harbour dreams of realising quick and effective change management across large organisations. Strategically important investments such as software infrastructure often receive generous budgets but the process for spending this is often deeply flawed.
Large enterprises have historically tended to trust other large enterprises and been willing to pay a premium for perceived quality of service. This worked for engineering and infrastructure projects in the past so why change the model for software?
The problem, however, in the software industry, is that smaller nimbler providers who often provide best-of-breed solutions for niche requirements have to compete with larger counterparts offering broad suites but usually lower quality solutions that improve slowly, if at all On paper, the easiest decision is to spend more with a single vendor as it has the appearance of being an easier to manage solution. Underneath the hood, however, there is often a patchwork of acquired software offerings whose integrations are limited and the core skills to maintain and improve the codebase are lost following each acquisition.
Many enterprises are still applying old buying practices but some are changing tack and realising that in the procurement software space in particular, combining two or more best-of-breed solutions from smaller vendors can offer a competitive advantage. For example, the performance differences between eSourcing solutions that have optimization versus those that don't can be stark. The opportunity cost associated with inferior eSourcing tools can be enormous given that the software costs are so small relative to the spend volumes that are managed.
Software as a Service is also reducing software costs because it doesn't require on-premise hosting and customers automatically receive regular feature upgrades. The payment models are more flexible with value received being a key component that's achievable because software vendors can meter on users, spend managed, usage patterns, numbers of sourcing events or transactions. This also allows smaller businesses to enjoy best of breed software at a cost that's commensurate with the value received. This creates a virtuous circle because it acts as an incentive for larger enterprises to ensure they have the same quality tools that their smaller competitors are using.
In 'Death of a Salesman,' the tragic ending foretold in the title also signals impending doom for the sales methods that still dominate the Enterprise software world. Behavioral change in buying enterprise software means that desk research and trial periods are becoming essential to the process. This will be the final nail in the coffin for poor quality software because quality must dominate when trial periods become the normal mode of assessing the fit of software solutions for business needs.
We may be slowly facing the Death of a Software Salesman but that's not to say that The American Dream isn't alive and well. Small tech firms are providing a breath of fresh air in the enterprise software arena and the fruits of this energy and enthusiasm will spell better days for all users.
Stay Informed
When you subscribe to the blog, we will send you an e-mail when there are new updates on the site so you wouldn't miss them.